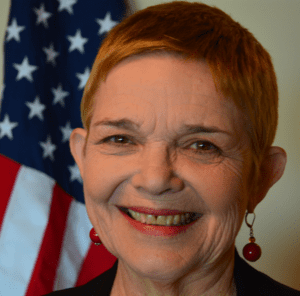 Joyce E. Kitchens has specialized in the practice of labor and employment law in Atlanta since 1982, representing corporations, municipalities, federal, state and local agencies, and gay and lesbian employment law.  She has represented municipalities and governmental entities in cases involving constitutional law issues, such as The City of Union City, Palmetto, Fairburn et al. v. Upper Chattahoochee Riverkeeper Fund, Inc. et al., Appeals No. 10-10711 & 10718; Williams v. Board of Regents et al., 2994 WL 5545037 (NDGA 2004), affirmed in part, reversed in part, 441 F.3d 1287 (11th Cir. 2006), opinion vacated and superseded on rehearing, 477 F.3d 1282 (11th Cir. 2007); and George et al. v. Walton County Board of Commissioners, 2005 WL 2124471 (USDC Middle District of Georgia 2005).
Ms. Kitchens has served as a mediator and arbitrator since 1988.  She was an Adjunct Faculty member for Emory University School of Law, 1996-2000, and continues to serve as a frequent speaker for continuing legal education seminars.  From 2003-2004, she was the National President of the Federal Bar Association.  She was the Chairperson of the Federal Bar Building Corporation 2018-2019.
She authored the deskbook, A Federal Sector Guide to the Uniformed Services Employment and Reemployment Rights Act (USERRA) and Veterans Employment Opportunity Act (VEOA), Dewey Publications, 2012.  She has also authored a number of professional articles, including:
Alternative Dispute Resolution in Federal Court, Federal Civil Practice, April 22, 1999;
Developing/Protecting the Record for Appeal, Federal Appellate Practice, May 31, 1996;
Attorneys' Fees Petitions under Fee Shifting Statutes, Federal Practice and Procedure, April 28, 1995;
ERISA & the Moench Presumption, May 2, 2013;
Alternative Dispute Resolution in the Federal Sector, April 15, 2014;
Cutting Edge Cases in Federal Employment Law Litigation: A View from the Bench & Bar September 5, 2014, (co-authored with Katherine Gonzalez Valentin.);
The Lost Art of Civility in Case Preparation, April 30, 2015; and
Ethics, Professionalism, & Whistleblowing, November 1, 2016, (co-authored with Stuart A. Miller).
Ms. Kitchens is listed in the Martindale-Hubbell Bar Directory of Pre-Eminent Lawyers, International Who's Who of Professionals, and Who's Who of American Women.  Her hobbies include reading, and traveling with her husband.  She graduated from the Emory University School of Law in Atlanta, Georgia, and was admitted to practice with the Supreme Court of Georgia in 1982.  She has been admitted to practice in the Eleventh Circuit Court of Appeals, Court of Appeals for the Armed Forces, Court of Appeals for the Federal Circuit, and the United States Tax Court.
Joyce E. Kitchens
Attorney at Law
Kitchens New Cleghorn, LLC
2973 Hardman Court
Atlanta, GA  30305
Office 404-557-5670
Fax 678.244.2883
Email joyce.kitchens@knclawfirm.com