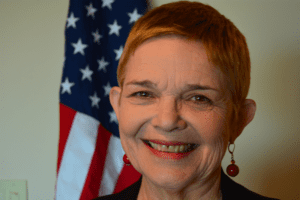 Joyce E. Kitchens is well suited to protect your rights as an employee and to protect your interests as an employer. She knows how to fight, and how to negotiate, and when to do each.  She has had thirty-five years of experience practicing federal sector labor and employment law. 
She graduated from the Emory University School of Law in Atlanta, Georgia, and admitted to practice with the Supreme Court of Georgia in 1982.  She has been admitted to practice in the Eleventh Circuit Court of Appeals, Court of Appeals for the Armed Forces, Court of Appeals for the Federal Circuit, and the United States Tax Court. 
Attorney at Law
Kitchens New Cleghorn, LLC
2973 Hardman Court
Atlanta, GA  30305
Office 678.244.2880
Fax 678.244.2883
She began her legal career as a staff attorney for the Department of Veterans' Affairs and was promoted to Assistant District Counsel of the Atlanta (Georgia) District.  She represented the Agency in employee appeals before the U. S. Merit Systems Protection Board (MSPB), Equal Employment Opportunity Commission, and Federal Labor Relations Authority (FLRA). 
Ms. Kitchens left the VA for private practice, and is a founding member of Kitchens New Cleghorn, LLC, where she has engaged in a varied litigation practice, including multiple business and corporate employment issues, representing employers and employees.  She has authored and reviewed covenants not to compete. employment contracts, and severance agreements and releases. She has served as labor and employment counsel to public and private employers.
Ms. Kitchens has served as a mediator, arbitrator, and court-appointed Guardian Ad Litem.  She is a frequent speaker for continuing legal education seminars.  She was an Adjunct Faculty member for Emory University School of Law 1996-2000.  She was the National President of the Federal Bar Association 2003-04.  She authored the book, A Federal Sector Guide to the Uniformed Services Employment and Reemployment Rights Act (USERRA) and Veterans Employment Opportunity Act (VEOA), Dewey Publications, 2012.
She has also authored a number of professional articles, including Alternative Dispute Resolution in Federal Court, Federal Civil Practice, April 22, 1999; Developing/Protecting the Record for Appeal, Federal Appellate Practice, May 31, 1996; Attorneys' Fees Petitions under Fee Shifting Statutes, Federal Practice and Procedure, April 28, 1995;  ERISA & the Moench Presumption May 2, 2013; Alternative Dispute Resolution in the Federal Sector, April 15, 2014; Cutting Edge Cases in Federal Employment Law Litigation: A View from the Bench & Bar September 5, 2014, (co-authored with Katherine Gonzalez Valentin).
Ms. Kitchens is listed in the Martindale-Hubbell Bar Directory of Pre-Eminent Lawyers, International Who's Who of Professionals, and Who's Who of American Women.
Ms. Kitchens has represented both federal employees and agencies in appeals before the MSPB and EEOC, and federal unions before the FLRA. She served as counsel in  cases before the MSPB including Roberson v. VA, 32 MSPR 173 (1987); Massimino v. Department of Veterans Affairs, 58 MSPR 318 (1993) superseded by statute as stated in, 122 MSPR 612 (2015); Park v. Dept. of Health and Human Services, 78 MSPR 527 (1998); Webster v. OPM, 2012 WL 11888255; Edgerton v. Dept. of Air Force, 2013 WL 9658974; Spann v. SSA , 2011 WL 12506289; Weathersbe v. USPS, 2012 WL 11888263; Taylor v. DOJ, 2014 WL 5155; Heimer v. DVA, 2015 WL 1322864; Terrano v. USPS, 2014 WL 1322864;  Taylor v. DOJ, 2015 WL 766015; Harley v. Dept. of Interior, 2014 WL 5337993.